Point & Sin
Weekly Devlog #4 - wearing big boy pants
---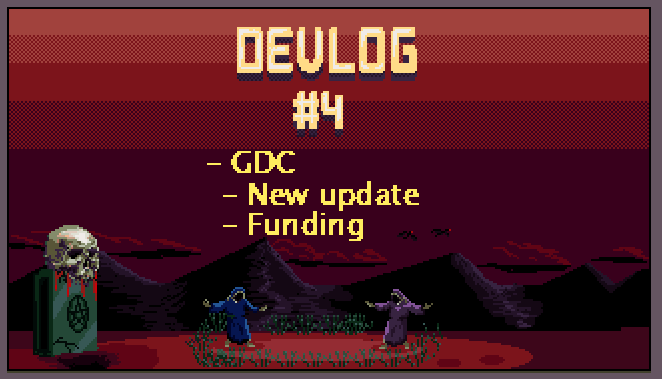 The past few weeks or so have been quite eventful. I've gotten extremely lucky to get a free pass to this year's GDC, where I will be able to showcase Point & Sin, as well as do some pitching and networking.
In case this is your first time hearing about Point & Sin - it's a hobby game project that I started a few months ago together with 3 Estonian artists. Given my inexperience as a developer and programmer, event like GDC is way out of our league, so the possibility to participate is very fortunate indeed.
Regardless of any events on the side, my main goal remains the same - to create a bloody good game. For this reason, I am looking for people who would like to join the project, as well as possible funding to repay those who help me out. There are no skill or experience requirements to join the project, only enthusiasm.
I'll let you in on a secret - I have no idea what I'm doing. For this reason, obtaining any investments is quite unlikely, but there are some options. Not including angels and personal savings, they are:
A. EU funding programme for game developers;
B. Baltic culture fund support;
C. Crowdfunding.
Long story short, none of them are applicable to this project at the moment. A has a bunch of very specific requirements, such as not having started the project before submitting the application. B seemingly does not categorize videogames as art and thus grants no support.
C seems to be the best option here, but it is still too early to attempt crowdfunding. I believe it requires a more refined development plan and intriguing visual materials to catch the attention of potential supporters.
In other news, yesterday I updated the game version that is available on itch.io. It has some minor improvements:
You can right-click and hold to repeatedly attack or cast a fireball;
It's possible to skip game intro by clicking any key;
Fixed bug where unique items would have weaker stats than intended.
I'm still trying to develop a habit of working on the game every day.
Keep on sinning,
Sīmanis
Twitter: https://twitter.com/neguligames
Discord: https://discord.gg/D9Vtc9f
Facebook: https://www.facebook.com/point.and.sin
Comments
Log in with itch.io to leave a comment.
Atmosphere is on point, looking forward how the game will develop further.